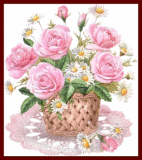 Michael L. Harp
Oct. 15, 1951 - July 14, 2017
_______________________
Visitation:
Tuesday, July 18, 2017
11:00 am to 2:00 pm
Treusdell Funeral Home
50 E. Main Street
Friendship, NY

Funeral Services:
Tuesday, July 18, 2017
2:00 pm
Treusdell Funeral Home
50 E. Main Street
Friendship, NY

Michael L. "Mike" Harp, 65, of 13 Factory St., Friendship passed away Friday, July 14, 2017 at Jones Memorial Hospital, following a brief illness. Born October 15, 1951 in Portsmouth, VA, he was the son of Talmadge G. and Edith M. Cummins Harp.

Mike grew up in Friendship and attended Friendship Central School . After his education, he worked in various jobs in the area including, Farnsworth Cookies in Cuba and Friendship Dairies.

He enjoyed playing drums, listening to music and watching TV. His great love though was to spend time with his family.

Surviving are a son, Michael J. Harp of Friendship; two daughters, Helena M. (Jason) Rawlings of Montana and Edith A. (Kevin) Ginter of Friendship; four grandchildren, Dylan Harp of Montana, Rocquel Harp of Montana, Audrey Ginter and Brent Ginter; and several nieces and nephews.

Mike was predeceased by a brother, Dwight Harp.

Friends may call at the Treusdell Funeral Home, Friendship from 11 am to 2:00 pm on Tuesday July 18, 2017. Immediately following visitation funeral services will be held at 2:00 pm in the funeral home. The Rev. Duane Broadwell, Pastor of the Friendship Bible Baptist Church will officiate and burial will be in Maple Grove Cemetery, Friendship. Memorials may be made to a charity of the Donor's choice or the Allegany Co. Office of the Aging. Online condolences may be expressed by clicking the button below.